Bud Locke has been working as Hope Center's Lead Pastor since the summer of 2021. He is married to his beautiful wife Kara and has two children and a wonderful daughter-in-law that all live in Washington. Bud loves to travel all around the world, if he has to pick to favorite place it would be The Blue Corner in Palau. When he's not working you can probably find him hundreds of feet below the ocean surface scuba diving or eating some really delicious food.
No, in all these things we are more than conquerors through him who loved us. For I am convinced that neither death nor life, neither angels nor demons, neither the present nor the future, nor any powers, neither height nor depth, nor anything else in all creation, will be able to separate us from the love of God that is in Christ Jesus our Lord. Romans 8:37-39
Director of Student Ministries
Katie Falgien began attending Hope Center as a high school student in 2005. In 2011, after graduating from UCSD with a degree in Biology. When she returned to the Bay Area and she began volunteering in the high school group at Hope Center and was hired as Director of Student Ministries in September of 2014. Katie enjoys playing Trivia with friends, drinking coffee, and spending time with her dog Teddy.
Director of Junior High Ministry
Tim Loux has served as the Director of Junior High Ministries since July 2018. He has a BA in Communication Studies from San Francisco State University and is currently working towards his MA in Christian Formation at North Park Theological Seminary. He is passionate about junior highers discovering Jesus and the life He has for them. Tim married his high school sweetheart Clare in August of 2018. Together they live in Pleasant Hill with their cat Topanga. In his free time, Tim enjoys spending time with friends, basketball, board games, and escape rooms!
Coordinator of Children's Ministry
Cathy Lackore is our Coordinator of Children's Ministry. She started attending Hope Center in 1989 and has been on staff since 2000. Cathy loves summer and being with her family so family vacations are a high point for her. When she was little, she wanted to be a mom when she grew up and so she feels blessed to be married and the mom to three wonderful young men. Cathy loves kids and loves to have fun, play games and be silly so Children's Ministry is a great fit. She is passionate about telling kids about Jesus!
Kathy's greatest joy is being Grammy to her 4 grandchildren and mom to her sons and their wives! When she was a little girl she thought she would grow up to be a Veterinarian because of her love for animals and her many experiences of rescuing birds and bringing them back to health (after her cat tried to eat them!). Kathy is relaxed and refreshed outdoors in nature, especially near a lake or the ocean. She enjoys cooking, journaling and sprucing up her many potted plants. Joshua 1:9 "Be strong & courageous!...the LORD your God is with you wherever you go."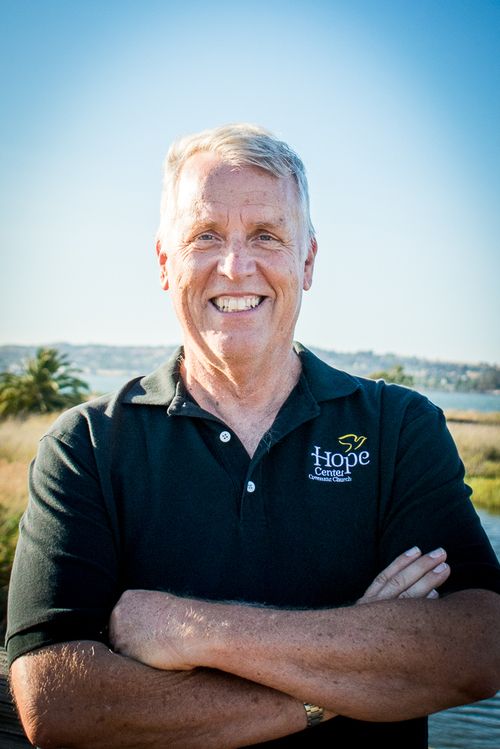 Director of Administration
Scott has been attending Hope Center since 1985! Currently serving on Staff in a part-time role helping Hope Center be a good steward of the resources God has entrusted to us. He has been very happily married to his lovely wife Diana since 1986 and has two adult children. Scott's favorite new role in life is Grandpa to his Italian grandson, Troy. His favorite bible verse is Philippians 4:6-7 "Do not be anxious about anything, but in every situation, by prayer and petition, with thanksgiving, present your requests to God. And the Peace of God, which transcends all understanding, will guard your hearts and your minds in Christ Jesus."
He loves to travel, hike, ride his recumbent bike and tinker on handyman tasks.
Karen Santos is the Hope Center Bookkeeper. Karen began attending Hope Center in 2005 and came on staff in 2014. She has been married to her husband Greg since 2000 and they have two incredible children. She enjoys reading, being creative, volunteering for EBARR (an animal rescue) doing yoga, organizing just about anything and especially loves spending time with her family, animals and friends
Missional Community Director
Karen has been attending Hope Center since gas was under a dollar a gallon. She has been married to her husband Tom for 43 years. They only dated for six weeks before getting engaged! Together they have 3 children and 5 grandchildren and attend many baseball, basketball and soccer games. If Karen could have any superpower, it would be the power to heal. As a lover of nature Karen's favorite place, she has traveled is Zion National Park.
Ken Bartizal is our Building Custodian. He has been attending Hope Center since January, 2007. He joined the Staff in 2008. His favorite passage is Jeremiah 29:11-13 "For I know the plans I have for you," declares the Lord, "plans to prosper you and not to harm you, plans to give you hope and a future. Then you will call on me and come and pray to me, and I will listen to you. You will seek me and find me when you seek me with all your heart." Ken's hobbies include cars and putting a smile on your face.
Director of Hope Counseling Services
Shelley has been the Director of Hope Counseling Services since 2013, and has held a license as a Marriage and Family Therapist since 1991. She became a therapist to facilitate healing as Christ did, by meeting people at the point of their most immediate need and walking with them towards wholeness. Everyone is unique and everyone deserves a safe place where acceptance is unconditional and hope can be restored. When Shelley is not at Hope Center, she enjoys life with her husband, adult children, friends, or her dogs. She loves sports, nature, books and art.
Jennifer Sciancalepore is our Technical Director. She has been attending Hope Center since 1999. Shortly after that, she began serving as a volunteer helping with technology on the computer team. In 2005, months after the birth of her first child, Jennifer joined staff part-time and was grateful to be able to learn and grow in her role at the church while also having time at home with her growing family. Jennifer and her husband, Sam, reside in Concord with their three sons and their female German Shepherd, Annie. She enjoys discovering new things and learning how things work. Her favorite Bible passage is Philippians 2:1-11 describing the love and humility of Christ as well as the exhortation to imitate Him. "Therefore if you have any encouragement from being united with Christ, if any comfort from his love, if any common sharing in the Spirit, if any tenderness and compassion, then make my joy complete by being like-minded, having the same love, being one in spirit and of one mind...In your relationships with one another, have the same mindset as Christ Jesus (Phil 2:1-2, 5)
Anika has attended Hope Center her entire life and knows the best hiding spots at church when playing Sardines. In July of 2021 she joined the communications team and now coordinates Hope Center's social media and website. Currently she is in college and pursuing a degree in speech therapy. In her free time, you can find Anika hiking, hanging out with her friends, or at the beach. Anika's goal is to visit every National Park in the United States.
Website Maintenance Technician
John has been attending Hope Center his whole entire life. He works on this website and thus can edit his own about section.
Alex has been attending Hope Center since he was born in 2001, and has been a loyal member of the tech team since 2020. As the technical associate, he helps maintain the Sunday tech and helps make service go smoothly, both on the streams and in person. His hobbies include programming and messing around with the code of video games and computer software. In the future, he hopes to stem into more careers of software engineering and continue further into the field. Currently, he also works for LightRiver Technologies and acts as Assembly Technician/Software Developer for the company